Attendance REALLY matters to everyone at Simonside Primary School. Regular attendance is crucial in terms of securing progress and ensuring all children maximise their potential during their time with us. Good attendance means 96% (which is actually 8 days off across the year) and this is our current whole school attendance target. We believe that we can all work together to ensure that every child attends school as often as possible.
What do attendance figures REALLY mean?
97% and above – Less than 6 days absence a year!  Pupils with this attendance should achieve the best possible outcomes.
96% –  8 days absence in a year. Good attendance. Pupils with this attendance are more likely to achieve their targets. Simonside will contact parents/carers via letter as soon as a child's attendance falls below 96% (half termly).
90% – 20 days absence over the year. Pupils with this attendance are missing approximately a month (20 days) of school per year and may fall behind in Maths, English and other subjects; it will be difficult for them to achieve their best. With this level of attendance, the Department for Education consider children to be a 'Persistent Absentee'.
85% – 30 days absence in a year. These pupils are missing approximately 6 weeks of school a year. It will be very difficult for them to keep up and achieve their best.
80% – Pupils with this attendance are missing a day for every week of school! It will be almost impossible to keep up with their work. Parents of pupils with this level of attendance will be made known to the LA and it is possible that they will face legal action.
For information regarding attendance procedures at Simonside, please see our 'Attendance Policy' in our 'Policies' section on the home page of this website. 
Is my child too unwell to attend school?
We understand that illness is unavoidable and when children are too poorly to attend school, parents/carers should contact school on the first morning of absence.  It can sometimes be difficult to decide if your child should be sent to school when they are suffering from certain illnesses, particularly as you may be concerned about passing the illness onto others.  Here is the official guidance from Public Health England regarding illnesses and whether time off school is advised.
Why is punctuality so important?
Being late adds up to a loss of learning too – being just 5 minutes late each day adds up to 3 days of learning loss across a year! Please support your child by helping them to get to school on time every day.  If you would like support with getting your child to school on time, please get in touch.
What do I do if I would like support with attendance or punctuality?
Should you wish to discuss your child's attendance and punctuality with us or, if you would like to discuss how school can support you with all matters related to this, please contact Mrs Gibson, who will be happy to help.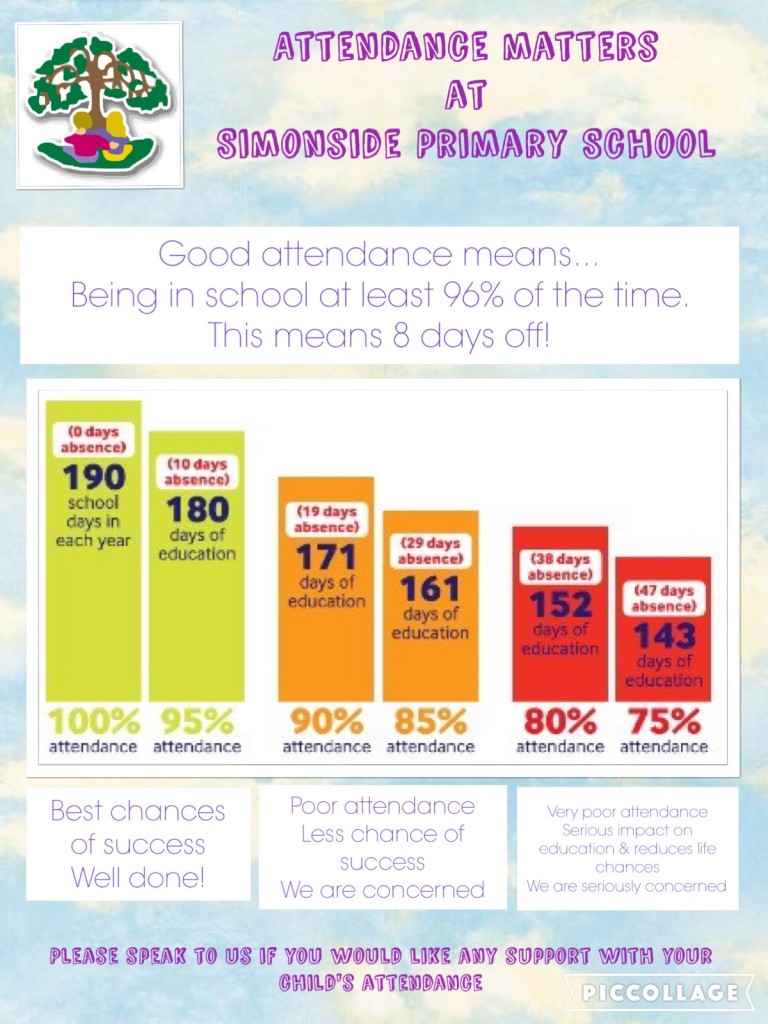 We have the following attendance incentives/rewards to celebrate those with 'good' or better attendance:
All individual children with 100% attendance for a full term will receive a certificate and individual prize from our box of goodies
Each class with 96% attendance for the week will receive a roll of the dice on our special 'Classopoly' board to win a fabulous prize for everyone in their class
Children with 100% attendance for the whole school year will receive a certificate and 'Mystery Prize' in the Summer term